Providing Whole-Home Water Filtration Systems to Residents of the Bay Area, FL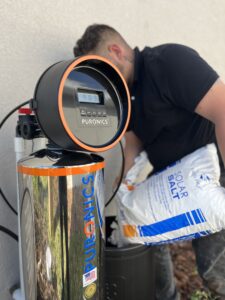 At Hydrology Water Solutions, we understand the importance that water has on our daily lives. This is something that is most evident within the home, where water plays a role in just about everything we do. That's why, as a local water treatment company that believes in offering only the best products for our customers, we offer top-of-the-line whole-home water filtration systems from industry-leading manufacturer Puronics®. When you're ready to improve the quality of water at your Bradenton, Florida, area home, we're the company to call for help.
Explore Our Residential Water Treatment System Options
The Puronics whole-home water filter systems we offer are engineered to protect your family against potentially harmful chemicals and minerals that can find their way into your home's water supply. This provides you with safer, clearer, and even better tasting water—clean and simple. Choose from three top-of-the-line Puronics whole-home water filtration systems:
Puronics® Defender™ iGen® C – An innovative system that uses proprietary technology to reduce chemicals and provide overall better-quality water throughout your home.
Puronics® Hydronex® iGen® B  – A hi-tech Bacteriostatic water softener and filter combo system that offers superior filtration thanks to a sophisticated digital control valve.
Puronics® Hydronex® iGen® C – A whole-house water softener and chloramine filter combo system that is cost-effective and built with technology that ensures consistently high-quality water.
With any of our three whole-home water filter systems installed, you'll be able to enjoy benefits like softer hair and skin, better-tasting beverages, and even cleaner dishes for many years to come. What's more, we back our work with extensive product and labor warranties to give you complete peace of mind in your investment.
Learn More About Our Whole Home Water Filtration Systems
Ready to experience the benefits of our whole-home water filter systems at your own bay area home? If so, there's only one thing to do next: give the experts at Hydrology Water Solutions a call. Contact us today to schedule a free consultation.